"Trash Vortex comes from the desire to raise awareness about the impact our waste habits have on our oceans and also the planet as a whole." (Eleanor Dorrien-Smith, Designer and PARTIMI Creator)  
Eleanor Dorrien-Smith, designer, PARTIMI Creator, and recent prize winner at the Fashioning the Future Awards, is about to launch an Ethical Pop Up Shop in Camden.
The decor for the Pop Up Shop is inspired by the Pacific Trash Vortex and the store will be stocking a range of ethical fashion and accessories designers including Worn Again, Komodo, Kuyuchi, Partimi and Ryan Noon. Here are the details!
LAUNCH PARTY: Friday Dec. 18th 7-10pm
SHORT FILM SHOWCASE: Saturday Dec. 19th 7:30-10pm
HAND KRAFTED FILMS presents a range of short films and animations by professional and up-and-coming filmmakers.
Opening Times:
10am – 10pm Friday 18 and Saturday 19 December
10am – 7pm Sunday 20 – Wednesday 23 December
11am – 3pm Thursday 24 December
Click here, for more information.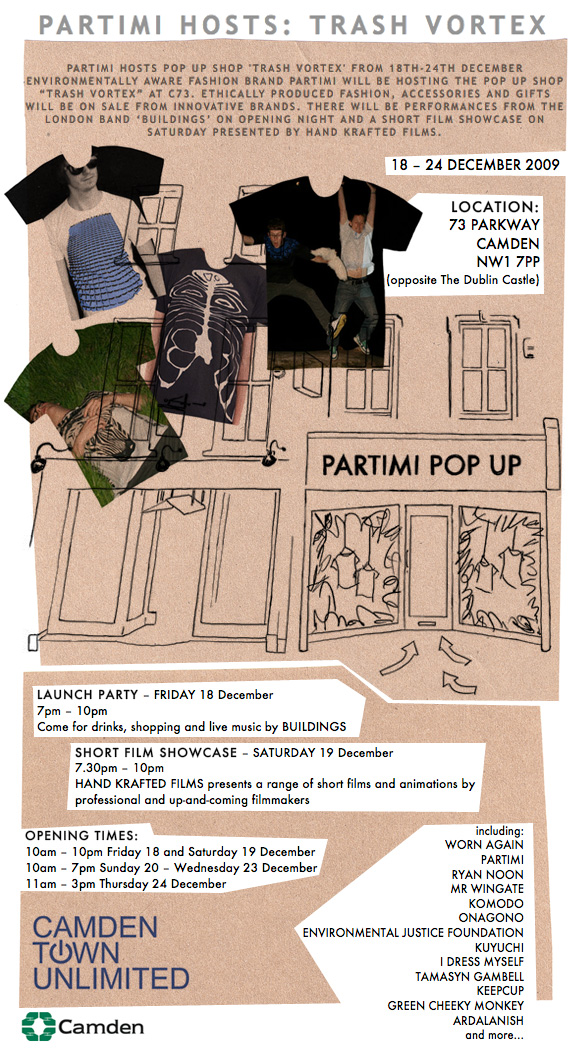 Start Date: 2009/12/18
End Date: 2009/12/24
Title: Pop Up Shop 'Trash Vortex,' hosted by PARTIMI
Location: Camden
Link out: Click here