With the world cup just around the corner, the new report  "Missed the Goal for Workers: the Reality of Soccer Ball Stitchers," from the International Labor Rights Forum (ILRF) is citing massive violations in the rights for workers making soccer balls in the worlds four largest soccer ball making countries: Pakistan, India, China and Thailand.
According to the report, violations include:
child labour still exists in the Pakistani industry especially within home-based work.
gender discrimination of female home-based workers, being paid the least and facing the constant thread of losing their jobs due to pregnancy;
overtime working hours as in one Chinese factory, where workers were found to work up to 21 hours a day every day for an entire month;
the lack of proper drinking water or medical care facilities, and even toilets, as found in Indian stitching centres.
                                                                                                                         (Source: CCC)
The Clean Clothes Campaign (CCC) and Maquila Solidarity Network (MSN) support the ILRF in their call for action from the soccer ball industry. Click here to send a letter to FIFA and show your support.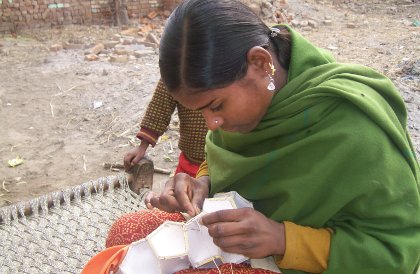 For the sake of transparency I must admit that I am not, nor have I ever been, partial to soccer. For reasons unbeknownst to me I have never enjoyed watching or even participating in the game. Despite this fact, I have held a great deal of respect for the spirit of the sport in its ability to bring people together in seemingly magical ways.
Therefore, it is curious to find a disconnect between respect for the game and respect for the workers along the supply chain, manufacturing and producing the equipment used to facilitate not only the sport itself, but the joy and peace it brings to so many people (especially children) around the world, as a result.
The world cup anthem this year, K'naan's "Waving Flag", is a song about poverty, survival and freedom. Here is an excerpt (see video below for an acoustic performance):
So we struggling, fighting to eat and
We wondering when we'll be free
So we patiently wait, for that fateful day
It's not far away, so for now we say
When I get older, I will be stronger
They'll call me freedom, just like a Waving Flag
And then it goes back, and then it goes back
And then it goes back
The irony here is hardly palatable.  
Until we can connect and associate ourselves with the supply chain as individuals, and not merely as the end user, we will be moving in the wrong direction.