If you are thinking about incorporating responsible design into your curricula this upcoming fall semester here are a few resources to get you started.
Nathan Shedroff, author of the book, Design is the Problem:  has recently published free curricula under Creative Commons license.
This is a series of free syllabi and teaching materials to help instructors teach students key topics for the future. These courses are studio courses, meant to teach students by making and doing, instead of merely reading and regurgitating. These syllabi are ready-to-use but can easily be customized for different situations. They are primarily created for design and business programs at the graduate and undergraduate level but can be adopted for teaching to most any audience at most any level. (Shedroff, Thoughts)
Design is the Problem: A course in sustainable design 1.0
Experience Studio: Exploring the full dimensions of experience design 1.0
Market Insight Studio: Research for more meaningful offerings 1.0
The curriculum contains syllabi and presentations and even comes complete with evaluation criteria for the Final Project Presentation (coming soon). Each studio course is easily downloadable, as Shedroff has, not surprisingly, made access to the information extremely user-friendly. Shedroff has truly delivered a fantastic resource in these studio courses.
Another must have for fashion design educators is Teaching Sustainable Fashion: An Educators Handbook, so make sure to add these articles to your course syllabus. We have highlighted the importance of this resource before, but with the new fall semester approaching, it is definitely worth another look. Chapters are broken up into different categories: Design, Business, Marketing, Interactive Activities, Cross-Curricular, and Pedagogy and Institutional Approaches.
You can download the entire handbook or each chapter separately on the Fashioning an Ethical Industry website, here.
Here is a look at the article titles and authors in the chapter on design:
On teaching empathy, Sue Thomas
Slow fashion, Kate Fletcher
Designing slow fashion, Kate Fletcher
The elephant in the room: Contextualising the ethical within fashion excellence, Mo Tomaney
Collaborating with fair trade producers: Design and trends, Tony Hicks
Customized denim project with further education students studying BTEC National Diploma Art & Design (Fashion & Clothing), Maria Skoyles
Clothing care calculator: An interactive tool to evaluate environmental impact, Katie Dombek-Keith and Suzanne Loker
Style showdown , Sara B. Marcketti
Introducing the cotton supply chain and sustainability, Südwind Agentur
Ideas for design briefs, Fashioning an Ethical Industry and Abbie Price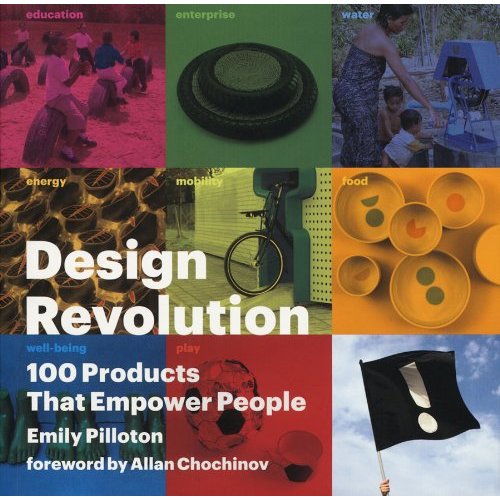 Last, but not least, we posted earlier re: Emily Pilloton's new book, Design Revolution: 100 Products that Empower People, and are happy report that it is now available for purchase. Here is what Valerie Casey, Global Practice Head, IDEO; founder, The Designers Accord, had to say about Pilloton, and the book:
 
"Pilloton is a force of nature and Design Revolution is the perfect
storm of inspiration, optimism, and ingenuity. This book should be
on every designer's shelf — no, in his or her hands."
Just in time for the fall semester!
Source: Core77, Nathan Shedroff, FEI, and Project H