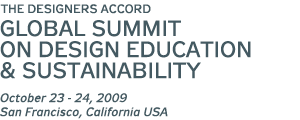 NOTE: Although this event is invite only, information gathered at the summit will be compiled into a toolkit that will be made available through the Designers Accord, for free.
Title: The Designers Accord Global Summit on Design Education & Sustainability
Location: San Francisco
Link out: Click here
Description:
"Overview
In San Francisco, on October 23 and 24, 2009, the Designers Accord will convene 100 individuals (an invited group of undergrad and graduate design education faculty and administrators, thought-leaders, experts, and select student ambassadors) for two days of highly participatory discussion, planning, and action around the topic of sustainability and design education.
The Summit is structured so that we address the critical topics in design education and sustainability, and create a toolkit for people to use right away. The formula:
100 educators, administrators, and thought-leaders
48 hours in San Francisco
6 inspirational – 30 minute speeches
8 breakout worksessions of highly participatory small group brainstorming
1 open exhibition of work, projects, programs
Time to talk, think, learn, problem-solve, and imagine possibilities
Goal
We will draw on the experience and knowledge of our global community to tackle the critical issue of sustainability, consider how best to prepare our educational community to make real change, and imagine what's next in design education.
Our goal is to have a lively and rich discussion during the summit, and then publish the best practices and recommendations for integrating sustainability into design and media programs to the public."
Start Date: 2009-10-23
End Date: 2009-10-24
Source: The Designers Accord