Meet Design Affairs' 'Swirl'!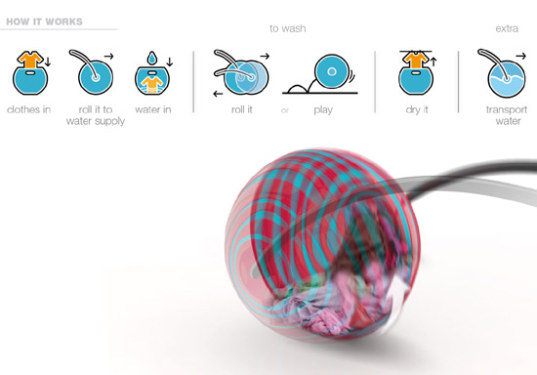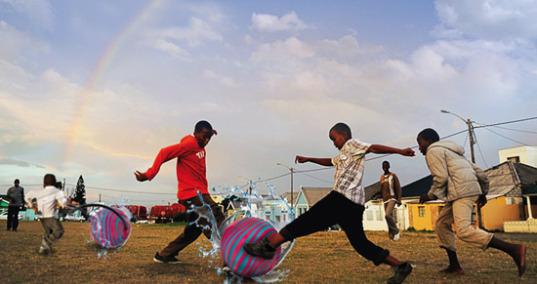 Here is the product description:
Swirl is a human focused design that simplifies washing in developing countries. The overall design resembles a ball containing a swirled sphere shaped basket and lid, connected to a steel tube handle. Washing is accomplished through the rotation of the "washing ball" – using long distance travelling to and from water supply to wash the clothes. The user can also wash by just rolling it back and forth in slow rotation cycles. At home, after the basket is filled with clothes, the lid should be screwed and the handle locked in. Transportation can easily be done by pulling or pushing the handle. At the water source, the basket should be filled with water and the product is ready to wash.
The design resembles Project H's Hippo Roller. Speaking of Project H… they are in the running to win an amazing prize that would help them to:
Start a high school design/build program in rural North Carolina….
To cultivate a culture of creative capital in a struggling economy.
To provide a hands-on learning path for low-performing students.
To teach design and vocational skills as creative problem solving.
To activate a poor and rural community through high school service.
To complete real-world, built projects with high school students.
Sounds pretty amazing to us! Education is the key point of intervention for responsible design. Click here to vote for their idea. As I type this they are ranked 15th and they must get to at least 10th place to qualify! You can vote everyday until the end of the month.
Source: Inhabitots, Core77 and Design Affairs