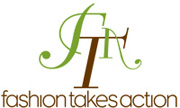 Who's your favourite responsible Canadian designer?
Fashion Takes Action (FTA) has officially launched Canada's 1st annual eco design award, Design Forward.
I had the pleasure of working on this project, and I am so excited that Social Alterations could support this important initiative in Canada,  and I will explain the extent of our participation in an upcoming post, so stay tuned!
Here are the nominees:
All the information you need has been made available to you, the public, and you are invited to vote online for the designer you believe best represents 'eco design' in Canada. Once you have cast your vote, the decision will be left in the hands of the jury, who will select their winning choice from the top three finalists.
The criterion for voting is based on production, material, design, and special features. Take your time getting to know each designer: you only get one vote, so make it count!
Check out the prize, valued at approximately $50,000!
A free membership in Fashion Takes Action
A three-month national PR campaign, provided by Third Eye Media
Feature in EcoSalon – the number one green fashion blog!
Participation at Nolcha Fashion Week's Ethical Fashion Preview in NYC in September 2010
Travel and accommodations for two, provided by Air Miles Reward Program
75 meters of eco-friendly fabric, supplied by Telio (to make a sample collection to show in NYC)
Look book photo shoot with full creative team including photographer, models, hair & makeup and stylist
Look book graphic design by pencil design
$1,000 towards Fair trade and Organic certification, provided by Ecocert.
The voting will close @ midnight on Friday, April 16th.
To all the designers, we wish you luck!