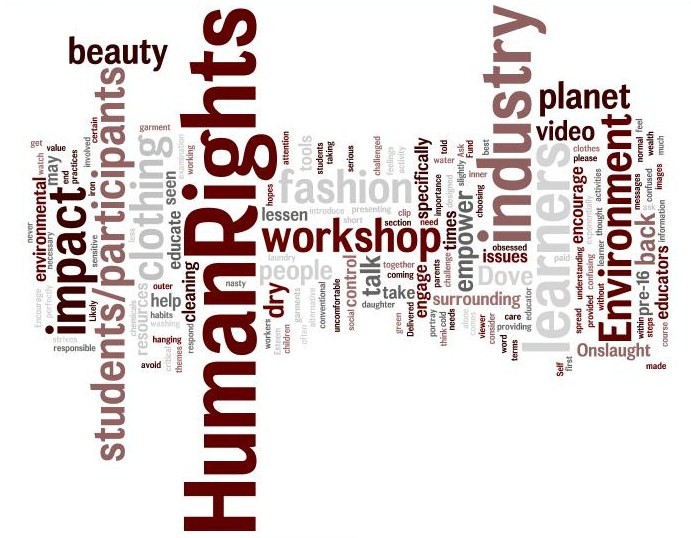 Fashion High @ Balmoral Jr. Secondary School from Social Alterations on Vimeo.
On Earth Day, SA stepped back into the classroom to introduce Grade 8 students to the social and environmental impacts of fashion.
We have collated our favorite activities from Teaching Sustainable Fashion: A Handbook for Educators as well as developed our own exercises to create two workshops for pre-16 learners.
These workshops hope to engage, educate, encourage and empower both educator and learner to get involved with the issues. Each workshop provides resources and tools to help lessen the impact of the fashion industry on both people and planet.
We've put together this video of the 1 Hour workshop in action, so that you may get a better picture on how this might work in your classroom.
Introduction
This workshop was designed to introduce pre-16 students/participants the value of a responsible fashion industry, by understanding the impact our clothing has on both people and planet.
Objectives
To engage students/participants on the impact their clothing has on garment workers working within the fashion industry.
To educate students/participants on the impact their clothing has on the planet, specifically in terms of best practices in laundry habits.
To encourage students/participants to 'talk back' to the industry, through a critical examination of fashion themes coming out of the industry, specifically surrounding beauty and wealth.
To empower learners to take back control of the impact their clothing on both people and planet.
For more information on these activities, please visit the 'Works Cited' page at the end of each workshop.
* If you are planning to use this lesson, please let us know so that we may keep track of our programming.*
** Please ask your students to complete the online feedback forms**
[Fashion High] Understanding the Impact of your Clothing: An Introduction by Social Alterations is licensed under a Creative Commons Attribution-Noncommercial-No Derivative Works 2.5 Canada License.
Click on the links below to download the workshops:
[Fashion High] Understanding the Impact of your Clothing: An Introduction, 1 Hour Workshop
Download here: Fashion High – 1HourWorkshop
[Fashion High] Understanding the Impact of your Clothing: An Introduction, 2 Hour Workshop
Download here: Fashion High – 2HourWorkshop