Well, a new semester is underway! What better way to pump your fashion design/marketing students up on responsible practices in the apparel industry than with a new resource? Check out ECO Fashion by Sass Brown, Resident Director for the Fashion Institute of Technology's study abroad program in Florence.
Here is the abstract and contents, via Laurence King Publishing: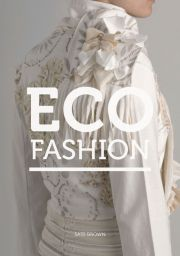 One of the strongest trends in fashion is the expression of ecological, social and community consciousness through for-profit fashion design corporations, which most recently have moved upscale from organic cotton T-shirts and hippy-ish drawstring pants to high fashion. There is now a wide range of companies offering well designed merchandise, from one-off art, recycled and redesigned clothing, organic and sustainable textiles and garment production, to a range of community and indigenous support cooperatives bridging the gap between traditional craft and high fashion.
This book shows the range of companies making a difference in the area of sustainable design in fashion, exploding the myth that sustainable design is bad design, or at best basic design, by highlighting the range of companies producing desirable and well-designed apparel and accessories with a conscience. It not only demonstrates the range of products available around the globe, but explains the stories behind them and the communities they support, as well as showing how and where they make a difference.
Contents
1 Community and Fair Trade
Alabama Chanin / Amana / El Naturalista / Elena Garcia / Leila Hafzi / Les Fees de Bengale / ModaFusion / Mona Mohanna / Noir / Royah / sense-organics / Shoto Banerji / Taller Flora / Van Markoviec
2 Ecological and Slow Design
Alexandra Faro / Camila Norrback / Celine Faizant / Christine Birkle / Ciel / Emily Katz / Enamore / FIN / Francoise Hoffmann / Linda Loudermilk / Magdalena Schaffrin / RoyalBLUSH / Samant Chauhan / U Roads / YOJ
3 Recycle Reuse
Angela Johnson / Costumisee par Liza / Demano / E2 / Frau Wagner / From Somewhere / Geoffrey B Small / Josh Jakus / Preloved / Rebound Designs / Riedizioni / Stephan Hann / Suitcase / TRAIDremade
4 New Models
aforest-design / Andrea Zittel / Bless / Collection of Hope / Holly McQuillan / Mark Liu
Nau / Rebecca Earley & Kate Goldsworthy / Redesign the World
5 Design Initiatives
Agatha Ruiz de la Prada / Barney's New York / H&M and DAA – Designers Against Aids / Katharine Hamnett / Zara / Miguel Adrover / Philippe Starck / Salvatore Ferragamo / Vivienne Westwood / Yeohlee Teng / Yves Saint Laurent
Source: Laurence King Publishing