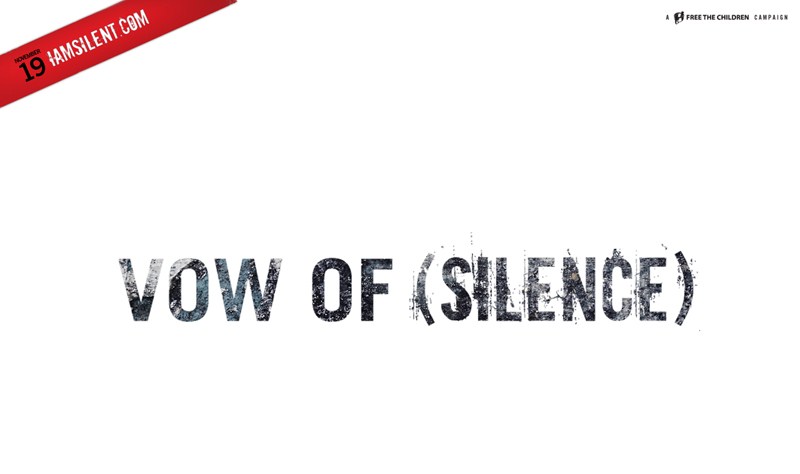 On November 20th the United Nations Convention on the Rights of the Child (UNCRC) celebrates its 21st anniversary.
To mark this occasion, Free the Children is campaigning for students and activists around the world to participate in a vow of silence on Friday, November 19th.
Why take the vow of silence?
• 121 million primary-school aged children are denied the opportunity to attend school. Most of these children are girls.
• 218 million children around the world work as child labourers. More than half (126 million, to be exact) work in hazardous conditions: in mine fields, with chemicals and pesticides, with explosives and with dangerous machinery.
• An estimated 300,000 boys and girls are exploited by armies during times of conflict when they are forced to act as soldiers, sex slaves and servants.
• Every day, 28,000 children die from poverty-related causes.
The vow of silence asks youth who have a voice to go silent for those who don't.
So what does this vow of silence entail? No talking, texting, or email for 24 hours!
Are you up for the challenge?
Teachers // To assist you in your classroom, Free the Children has developed free lesson plans (75-120 minutes), available online for download. Click here to download the lessons.
"Stay silent on November 19th in solidarity with children whose human rights are not being upheld. Show the world that we are not doing enough to protect the rights of children." (Free the Children)
Students // Head on over to www.iamsilent.com and learn how you can get involved:  
Take the Vow
Get the Facts
Spread the Silence
Make it Count
Join an Event
Break the Silence
If this campaign runs on just a fraction of the energy stirred up from this year's WeDay, we're sure it will be a huge success.