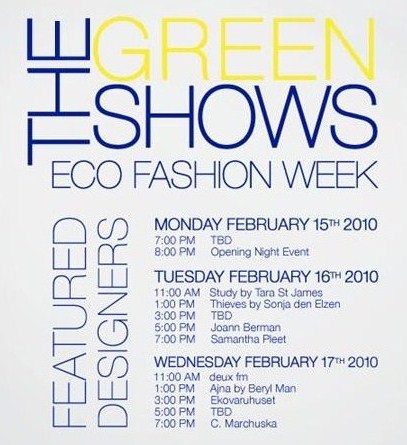 Title: The GreenShows, Eco Fashion Week
Location: New York, NY
Link out: Click here
"The GreenShows is the only premiere fashion event exclusively committed to ecofriendly, ethically-sound, fair-trade fashion in New York City.
The GreenShows will produce a comprehensive canvas for full-length runway shows that feature an edited selection of 11 designers. Each designer will be given the opportunity to show their entire Fall 2010 collection before an audience of influential editors, buyers, and VIPs.
The GreenShows will host an opening night runway show and event on Febuary 15, 2010 followed by two days of shows. An entirely green venue will house this eco extravaganza in downtown Manhattan. The GreenShows will coincide with New York City's world-renowned Fashion Week and beyond the shows, Eco Fashion Week will be an immersive green experience for all attendees.
We believe beautiful fashion can be considerate of the earth, animals and mankind. The mission of The GreenShows is to share this vision." (GreenShows, Media Kit)
Start Date: 2010-02-15
End Date: 2010-02-17