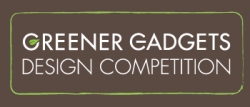 "The Greener Gadgets Conference tackles all of the issues surrounding energy efficiency and sustainable design, from innovative advances in packaging and product manufacturing to end-of-life recycling solutions. It also highlights ways in which electronics make a major impact by utilizing renewable energy in developing nations.
The conference closes out with the incredibly popular Greener Gadgets Design Competition, highlighting a new class of sustainable product concepts, from those that create their own energy to those that minimize the need for any electricity at all." (Greener Gadgets)
Click here for a list of this year's presenters and here for the conference schedule.
Title: Greener Gadgets               
Location: New York    
Link out: Click here       
Date: 2010-02-25   
Below is the video footage of the 2009 Conference:
Source: Greener Gadgets