Vancouver Eco Fashion Week is taking Canada by storm, bringing the best in ethical design from the global arena to Vancouver September 28th -30th:
To celebrate sustainable principles and styles
To identify and refine sustainable industry practices
To educate and inform about eco-friendly fashion
"Eco Fashion week is a biannual […] It consists of – three days of fashion shows from local and international designers, media events and conferences focusing on everything eco and style related." (VEFW)  
Myriam Laroche, VEFW Creator and CEO, "seeks to make Vancouver a world-wide destination for environmentally friendly fashion and couture, and strengthen its image as a green, progressive and trend-setting city." (VEFW)
Social Alterations will be coordinating the conferences, and promoting education, through exciting presentations by leading experts within this arena on key issues.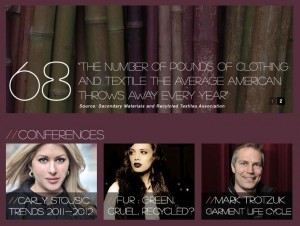 We are so thrilled to be a part of this Canadian and international responsible design initiative as a supporting partner, alongside Vancouver Green Capital, Bluebird Strategy, Eco Fashion World, and Vancouver Green Capital. 
We'll be posting lots on VEFW leading up to this event, and will of course be live-blogging from the conference and throughout the entire week, so stay tuned for lots of details!
Title: Vancouver ECO Fashion Week
Location: Vancouver, Canada
Link out: Click here
Start Date: 2010-09-28
End Date: 2010-09-30