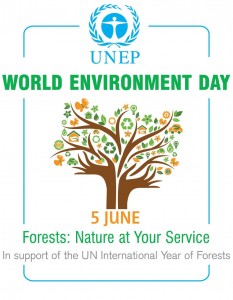 "To sustainably reduce poverty, guarantee food and nutrition security and provide decent employment for growing populations, we must make the most intelligent use of our natural capital." (UN Secretary-General, Ban Ki-moon)
Achim Steiner UNEP Executive Director from UNEP on Vimeo.
WED Challenge behind the scene from UNEP on Vimeo.
Happy World Environment Day! Environmental security is a human right!
What can you do? Get involved and register your activity or pledge an action here.
One of the best ways to take action is to spread the word! Educators, there are a ton of resources over on the United Nations Environment Program (UNEP) site to assist you in your classroom—like the Forest Facts page, for example.