Kate Fletcher, author of Sustainable Fashion and Textiles: Design Journeys, and Lynda Grose, assistant professor at California College of the Arts, have a new book coming out in April 2012, Fashion & Sustainability: Design for Change.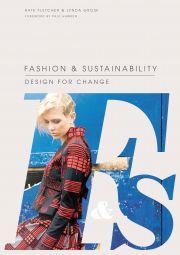 With a forward by Paul Hawken, the book is divided into three parts:
PART 1: TRANSFORMING FASHION PRODUCTS
Materials / Processes / Distribution / Consumer care / Disposal
PART 2: TRANSFORMING FASHION SYSTEMS
Local / Speed / Needs / Adaptability / Services and sharing / Hygiene and laundering / Optimised lifetimes / Biomimicry / Engaged / Distribution
PART 3: TRANSFORMING FASHION PRACTICE
The designer
Educators, add this book to your required/suggested reading lists!
Click here for more information.