Last Tuesday I took part in the first of three webinars on the sustainable consumption of fashion entitled Introducing the NICE CONSUMER Project and the Draft Framework on Sustainable Consumption of Fashion. The webinar experience was new to me and I was unsure of what to expect, but also enthusiastic about the opportunity to participate in such an important conversation. Over the next month I will keep you updated with this project and its development in the run up to the Copenhagen Fashion Summit in May.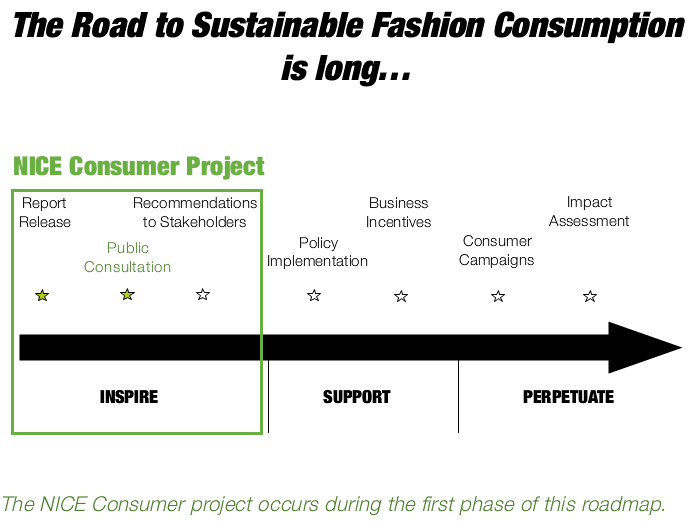 The event began with an introduction by Jonas Eder-Hansen of the Danish Fashion Institute followed by an overview of the research (thus far) by Cody Sisco from BIS. Both speakers highlighted  the infancy of this project and clearly set out the aims, objectives and limitations of this work….the road to sustainable consumption will be a long one, beginning with an attempt to define sustainable consumption and the NICE consumer.
The next speaker- Ian Morris, Head of Technical Services, Marks & Spencer plc.- described an on-going collaboration between M&S and Oxfam, which rewards consumers who donate their old clothes to charity. This project is an illustration of how a company has acted to positively influence consumer behaviour; in this case conscientious disposal, one strand of sustainable consumption. Part of the NICE consumer project involves analysing examples like this, which will help to inform the debate and the final framework.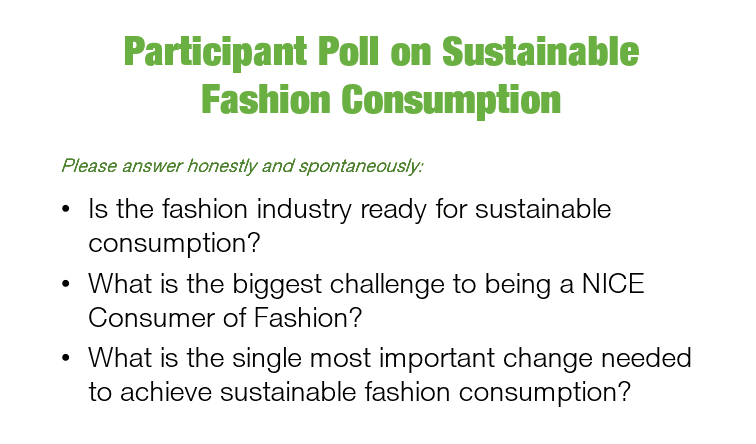 Another feature of this project is its inclusive and open approach, making use of new technology and social media to extend the reach of discussions and inform a wider selection of society. As part of this, the webinar series gave attendees the opportunity to vote in online polling and ask questions directly to the speaker. This information is included in a recording of webinar which is already freely available to download. Opinion and feedback on the content of this webinar and the questions posed are encouraged and are easy to access through Twitter (@niceconsumer) and Facebook.
This event has given me an insightful introduction into the emerging conversation on the sustainable consumption of fashion. I am looking forward to the next event on Tuesday –The state of the Art in sustainable consumption– when the speakers will include H&M, TED (Textiles Environment Design) and Vivian Westwood.
Additional Resources //
Cody Sisco [blog]  The Journey to Sustainable Fashion  Consumption Has Begun