As promised here is an update of the second NICE consumer consultation webinars, The Art of Sustainable Consumption. At this session we heard from four speakers presenting a range of responses to sustainability. In bringing them together we were able to imagine what  'sustainable consumption' might look like and also how some of these approaches could be linked.
Giordano Capuano -Vivienne Westwood- presented the model of ethical production behind Westwood's Ethical Africa collection. The project began as part of an initiative of the International Trade Centre, which aimed to link luxury brands in the West to producers in communities where poverty is high. The exciting thing about this project (and others like it), is the long term ambition which involves, empowerment through meaningful work and training, and sharing skills that will help to achieve sustained trade opportunities in global markets. Whilst this example demonstrates positive production and sourcing, it is not a solution to ethical production that could be replicated in all sectors of the fashion industry today.
Next up Henrik Lampa (H&M) talked about how H&M is actively seeking to improve its supply chain through a more sustainable fabric sourcing policy, guided by research from Made By. Conventional cotton production has a negative effect on the environment and can also be damaging to people the land they rely on through the heavy use of pesticides and water; working towards 'better' cotton is a step in the right direction, and H&Ms efforts here will hopefully prompt other companies to follow suit!
[For insight into the limitations of current LCA models and benchmarks, check out Pulling Wool over our Eyes: The Dirty Business of LCAs, by Tone Skårdal Tobiasson, Editor at www.nicefashion.org, and Kjersti Kviseth, Partner 2025design.]
Of course we also know that fast fashion is problematic in relation to the volume of disposable goods produced, and the production speed that is necessary to be competitive. These factors can translate into difficulties for suppliers and negative conditions for production workers; however it is hard to see how improvements here can be made from within individual companies when this would compromise their competitiveness in their market sector. Perhaps tackling this problem requires a multi-brand approach that will give all companies a level playing field whilst improving conditions for garment workers?
The next presentation by Mo Tomaney of Central Saint Martins, focused on design-led responses to sustainable consumption. Mo inspired us with these case studies from the design world, Junky styling, From Somewhere and Gary Harvey. Finally she introduced the student program Reclaim to Wear, which aims to prompt the next generation of designers' to think sustainably. As a student designer myself this is of real interest to me, and I believe design could be involved at every level of sustainable consumption in diverse and exciting ways. Design can also act as a valuable conduit between seemingly conflicting needs, such as the desire for rapid change and the need to reduce waste.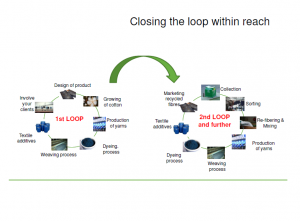 Aptly, the last speaker Ellen van den Adel, talked about post-consumer textile waste. Discussing how the consumer benefits emotionally from the knowledge that their waste will be reused, and how consumers understand the message about recycling and many do recycle or want to. However the viability of the textile recycling industry is threatened by a number of factors which are likely to become more influential into the future. In response to this Work in Progress have collaborated with Textile 4 Textile to develop an automatic sorting machine capable of sorting textiles by colour and fibre type; this sort of technological advancement may help protect the used textile trade. Education and dialogue between companies, designers and textile recyclers could also help to improve the end of life opportunities for our clothing.
The seminar inspired a level of optimism about what is already happening to improve the sustainability of the products we consume, at the same time an approach to disposable 'fast fashion' remains unclear. This is the most complex of topics as it is inseparable from broader themes such as our economic structure, competition, and many social and cultural factors (for example the speed at which information travels today is related to the rapidity of trend cycles), all of which go far beyond fashion itself.
Listen to the entire webinar and view the presentations here.