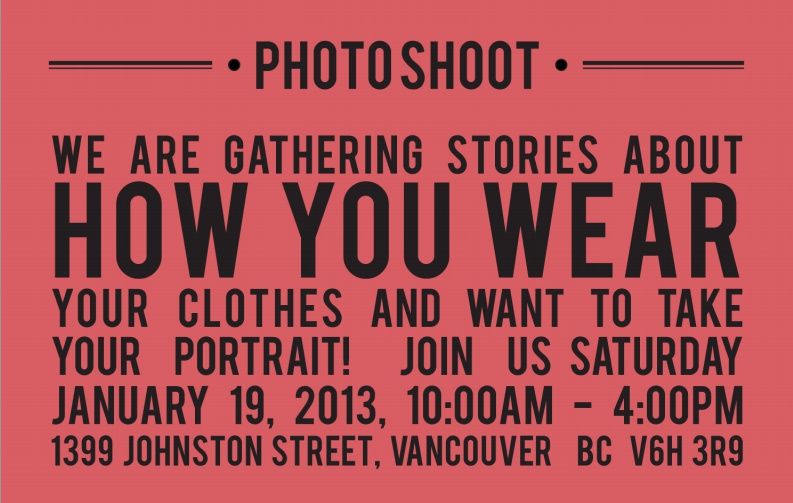 Have you found meaning in a special piece of clothing? Will you be in Vancouver on Saturday, January 19th? Local Wisdom wants to take your picture!
"Local Wisdom combines ethnographic research methods with design process. It gathers stories and images from the public of how people use their clothes at community photo shoots. These use practices are then the basis and inspiration for design projects in the UK, USA, Canada, Denmark, Australia and New Zealand which aim to amplify these practices and explore their integration into larger programmes or original business models." (Local Wisdom)
Originated by Dr. Kate Fletcher of the Centre for Sustainable Fashion at London College of Fashion, Local Wisdom will set-up in Vancouver at Emily Carr University (ECUAD) with Hélène Day Fraser, Assistant Professor, Design and Dynamic Media, and lead ECUAD investigator for the Local Wisdom project – ECUAD is one of seven institutions formally partnered with the project.
Do you have a story to tell that fits with the project? A caption from the release:
"Perhaps you live in one of the West's typical households, where on average, around 30% of a person's wardrobe sits unused and unworn for at least a year, resulting in a massive CAN$50 billion worth of unloved garments going to waste.  Or maybe you're amongst the growing number of people bucking the fast fashion trend and investing in alternative fashion experiences, in addition to shopping. You might be the proud owner of a treasured pair of jeans that you've never dared wash so as to keep their personalised look, or a dress that is shared and covetously passed around your sisters and aunts.  If so then Local Wisdom wants to speak to you!" (Local Wisdom Press Release)
Not sure your story is right for the project? Click here to for guidance on the types of stories their looking for.
And while you're at it, check out the beautiful use practices already documented.
We're thrilled to see Local Wisdom in Vancouver, and can't wait to check it out!
If you're not based in Vancouver but are interested in participating, stay connected with the project through the 'Craft of Use' facebook page, and be sure to check out the schedule of upcoming project events around the world.
Next stop? New York – Parsons  The New School for Design with Timo Rissanen!