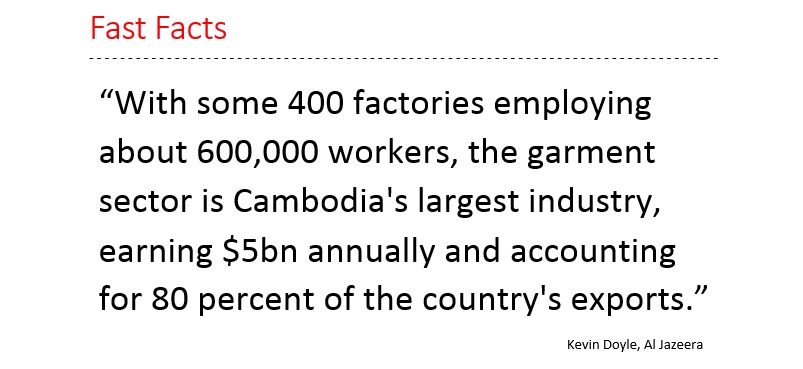 In 2013, Cambodia saw months of garment worker protests calling for an increase in the monthly minimum wage. Over the past two weeks, however, the country has seen garment worker demonstrations intensify with support from the opposition, the Cambodian National Rescue Party (CNRP). Many garment workers are reportedly backing the opposition under a promise that workers would see an increase in minimum wages. Through support from the opposition, the country has since witnessed mass street rallies – the likes of which have not been seen since 1998 – with a reported hundreds of thousands of demonstrators taking to streets of Phnom Penh in support of CNRP opposition leader Sam Rainsy. The country has not seen a regime change in nearly 30 years.
Back to the garment workers…
Striking workers are demanding their monthly minimum wage double from $80.00 to $160.00. On Dec. 24th Cambodia's Labour Advisory Committee proposed a $95.00 minimum wage, prompting a joint strike action from at least the following six unions (despite threats of legal action from the government):
Coalition of Cambodian Apparel Workers' Democratic Union (C.CAWDU)
Free Trade Union (FTU)
National Independent Federation Textile Union of Cambodia (NIFTUC)
Collective Union of Movement of Workers (CUMW)
Cambodian Alliance of Trade Unions
Cambodian Confederation of Unions (CCU)
Although the new $95.00 monthly wage proposed was up $15.00 from last year's $80.00 monthly wage, it falls $65.00 short of the $160.00 monthly wage sought by workers and unions.
Despite the government announcing on Dec. 31st that it is willing to increase the proposed monthly minimum by an additional $5.00, bringing it from $80.00 to $100.00, the unions have continued the nationwide strike action.
While there had been previous reports of violence (see also here), demonstrations today (Jan. 2) saw police in riot gear, armed with rifles, use force to break up the protests. Garment worker living wage activist organization, Asia Floor Wage, has announced via Facebook the unions will not back down, jointly agreeing to continue further strike action.
Striking garment workers are now faced with a difficult decision: stay and fight in support of their unions, or get back to work. An extended strike means lost wages for these workers; however, under the current pay structure, it's becoming increasingly difficult for them to survive. It hardly seems like much of a "choice" at all.
Sithi.org has a geographical breakdown of the Cambodian garment sector with a partial list of brands and their suppliers producing within the country. Click here for the details, and to see the methodology used to gather the data.
Some further reading on Cambodia from SA //
For a background overview on the country's apparel sector, click here.