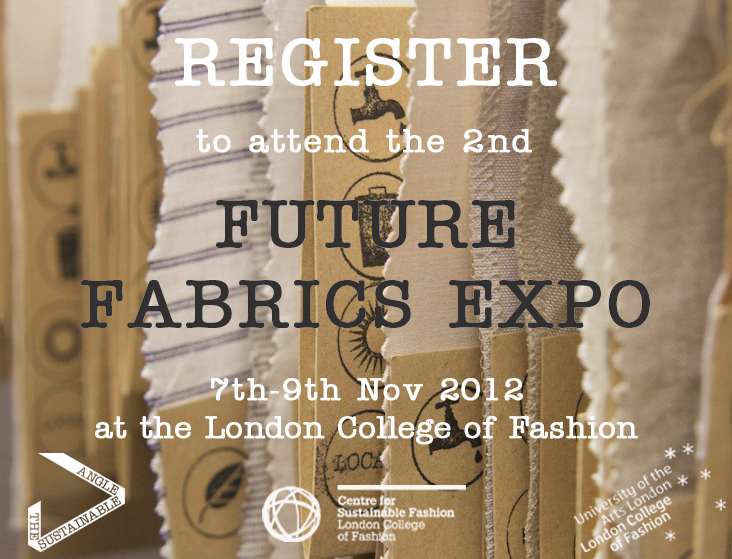 "The Future Fabrics Expo focuses on the fashion industry and how its environmental impact can be lowered through innovation in the textile industry, and novel ideas to transform the fashion system and design practice." (The Sustainable Angle 2012)
This November be sure to check out the Future Fashion Expo hosted by the London College of Fashion. This event is organised by The Sustainable Angle with the support of the Center for Sustainable Fashion. Visitors to the Expo will have the opportunity to view a diverse range of fabrics and gain a feel for their aesthetics and performance, as well as finding out about their production.
"The Sustainable Angle has been researching and presenting high quality fashion fabrics which are produced with the intention of reducing environmental impact throughout the supply chain, addressing issues of biodiversity, water, waste and energy. These materials are sourced from international mills, suppliers, and cooperatives, highlighting both environmentally considerate and ethical production." (Center for Sustainable Fashion 2012)
Last year, I attended the first Future Fabrics Expo and found it to be an informative research opportunity that I highly recommend to others. As a fashion student interested in responsible sourcing most of my research had previously been online and I was grateful for the chance to browse at the Expo; getting up close to so many new and exciting fabrics.
Now in its second year the Future Fabrics Expo is expanding to include further information about other aspects of fashion supply chains as well as moving to the prestigious Rootstein Hopkins Space. I am excited by the broader scope of this year's event which again promises to be an invaluable experience for designers and students alike.
To register for the event visit www.futurefabicsexpo.org