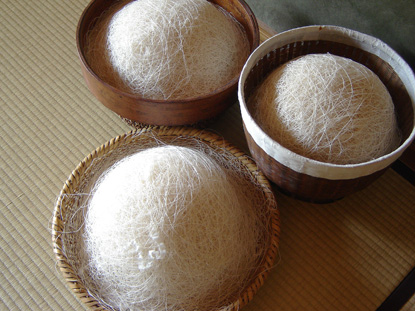 "If a product is not considered, they call it an inconsiderate design" (Lorrie Vogel, on Nike designers creating their own vocabulary, Opportunity Green)
A roundup of some of the stories, headlines, and updates you may be interested in from in and around the community of socially responsible fashion design. This week's roundup has a ton of videos—there is a lot going on in our community!
Core77
Next: "user centered ecosystems designs"
New production method: Enslaved spiders produce huge tapestry
Ecouterre
Does Greenwashing Exist in the Fashion Industry?
Ecotextile News
Eco-Textile Labelling Guide 2010
Ethical Style
'18 Degrees of Inspiration': 6 Degrees of Cool

More videos like this on www.t5m.com
"My question is—will apparel brands and retailers demand new designers, merchandisers, and others who have committed to sustainability? Or will they continue hiring only those prepared to make financially cut-throat decisions for the sake of profits and margins?" (Marsha Dickson, Discussion Forum: Just Style.com)
CSR Questions Arise About Project RED
Joel Makower: Two Steps Forward
Copenhagen Gets Down to Business
Just-Style.com
Discussion Forum, INSIGHT: Design education is key to sustainable fashion
MakeShift
Happy 100 Days to the MakeShift Project! SA had the chance to interview designer Natalie Purschwitz—click here to listen to this podcast, and others.
The Story of Stuff
The Story of Cap & Trade: Why you can't solve a problem with the thinking that created it
The Uniform Project
Holiday Drive, double your donation: "eBay will match every dollar you donate during this holiday season up to $15k. If you've been waiting to donate, there is no better time than now." (The Uniform Project) Click here to read more about the project.
The Uptake
Hopenhagen? No, thanks: Naomi Klein on COP15
Treehugger
Versace, Valentino, and Prada Packaging Supplier Cuts Ties With Rainforest Paper Producer
The Catwalk at COP15: Sustainable Fashion Design Competition in Copenhagen (Video)
Nike Considered's Lorrie Vogel at Opportunity Green on Creating a Sustainable Design Ethos (Video)
University  of Delaware, UDaily
Fashion and Apparel Studies instructor promoting sustainability worldwide
Sri Threads
The Art of Shifu: Hiroko Karuno's Original Interpretation of Traditional Woven Paper
Social Alterations has been in the news over the past few weeks for our upcoming interview with Noko Jeans (stay tuned!), and for Fashioning the Future:
Caution: Shameful Self Promotion Ahead!
CSR Asia
Your jeans are from North Korea
Ex-CSR Asia intern wins Sustainable Fashion Industry Award
Treehugger
London College of Fashion Draws Designs for the Future
Arts Thread
Fashioning the Future 2009 Awards, London
Glass Magazine