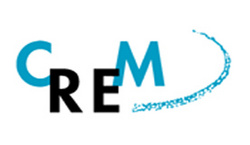 Retailers have a responsibility to understand the social and environmental impacts of the products they sell. Unfortunately, "the cotton supply chain is fragmented, complex and not very transparent." (CREM, 7) Although CREM's new handbook, "Sustainable cotton on the shelves," was developed with mainstream retailers to in mind, it can also be used as a tool for apparel / textile/ fashion (etc.) designers to turn to for help on getting more educated on the fibre.
Designers have a responsibility to understand the true social and environmental consequences of their designs. "While efforts are being made to have full traceability of conventional cotton, at present such a system does not exist (to date only certified cotton is fully traceable)." (7) The use of conventional cotton is an irresponsible design choice. While fully sustainable cotton is not an option, this handbook will guide you through the in's and out's of initiatives, certification, third-parties, retailers and the better cotton initiative. The guide also breaks down industry definitions and categories.
*If you are a design educator, the guide contains excellent visual aids. For example,  "How Clean is my Cotton?" (pg.5) could be useful when explaining the social, environmental, and economic impact of cotton production to your design students.  
*If you are a designer, please be sure to also read this report by Urs Heierli "Where Farmer and Fashion Designer Meet: Globalization with a Human Face in an Organic Cotton Value Chain."  
*If you are a design enthusiast, please, spread the word.
About the report:
"Using the perspective of new-comers in the world of sustainable cotton, the handbook attempts to explain complex issues in an accessible manner, answering the key questions that textile retail managers, buyers or marketers may face: What type of sustainable cotton is the most suitable for my business? Can I source it from my own supply chain, at what conditions? Is there a consumer demand for sustainable cotton? What are my options if I am a small or medium sized retailer?
Through concrete questions and straightforward answers, the handbook provides an overview of issues and trends in the production and marketing of sustainable cotton. The handbook "Sustainable cotton on the shelves" is the outcome of a project run in the Netherlands by the retailers HEMA and de Bijenkorf, the Dutch association for large textile retailers (VGT), the NGOs Oxfam Novib and WWF, and the consultancy CREM.
 Pascale Guillou, senior consultant at CREM, says "We are extremely pleased that the result of this two-year research and consultation process with numerous stakeholders can be widely shared with mainstream retailers. We hope that this handbook will help textile retailers making strategic decisions and operational choices at a time when they experience the will or the need to better perform on a triple bottom line"
Click here to download the handbook.
Source: EcoTextile News and CREM