"21st Century supply chain management calls for innovative mindsets and specialized methodologies. Escalating oil prices, climate change, consumer awareness, water shortages, child labor, biodiversity, landscape management, transparency, pesticide management – all these elements impact on sourcing decisions, the supply chain and how we deliver product to the consumer." (OE-MB Sustainable Fashion Seminars)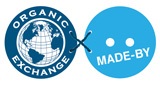 The Seminar is a unique 2 day intensive aimed to bring textile and apparel professionals working within the industry up to speed on opportunities to create responsible change within their supply chain.
Title: The Case for Sustainable Fashion: Organic and Sustainable Textile Seminar for Brands and Retailers
Location: London
Link out: Click here
Description :
"Some of the important topics covered include:
Environmentally Friendly Fabrics – Understand the Definition, Sourcing and Production Issues,
A discussion on Recycled Polyester and Climate Neutral Clothing,
Responsible Processing – The Good The Bad & The Ugly of Dyeing and Finishing Industry,
Product Integrity – Certification, Labeling, Transparency and Traceability,
Social Compliance – Understand the Different Systems and Learn The Actual Work Done,
Setting Sustainability Strategy – Learn from the Perspective of Leading Brands, Their Pitfalls, Triumphs and Lessons Learned,
Communication Strategy – How Sustainability and Branding Strengthen Each Other?
Fashion and Consumer Trends Towards Sustainability in Europe.
Participants will be encouraged to be critical, ask questions and share experiences during discussions. It would be an excellent place to actively share knowledge and information and to network at every possible level.
It is of our main intention that you will leave this event with:
Practical and in-depth sustainability strategies that can be used by your business,
A roadmap of action – a clear idea of what needs to be done, and how,
A new set of meaningful contacts.
Who would benefit most from this seminar?

If you are involved in supply chain management, buying, designing, fabric sourcing, marketing, CSR or are a professional and manager of a clothing brand or retailer, this seminar will assist you to initiate and develop your sustainable textile and apparel programme.
By attending, you will provide your company with an excellent return on investment as you meet with your peers, expand your knowledge of sustainable textiles, and find new opportunities for innovation, risk reduction/brand protection, and cost savings.
Please contact Nany Trivita Kusuma for additional details or questions" (event description directly sourced through OE-MB Sustainable Fashion Seminars)
Start Date: 2009-11-19
End Date: 2009-11-20
Source: CSF and OE-MB Sustainable Fashion Seminars