This post was written by Leah Nielsen of Fairware and tells the story of product with purpose: promotional products for your conscious. VOICES // a feature space on SA where community members are invited to share their journey in responsible design. What's your story? 
Product with Purpose – in our experience, it's an obscure concept in the promotional product industry. When you think of corporate give-aways (a.k.a SWAG – the stuff we all get), the idea of cheap, disposable, relatively useless items probably comes to mind first.
At Fairware we work with our clients to incorporate the concept of Product with Purpose into their purchasing of custom imprinted and branded products. At the most basic level, we do this by helping organizations source from suppliers that meet social and environmental standards. The Fairware Supplier Code of Conduct is modeled on the Fair Labor Association's Code of Conduct and sets the standards we encourage our suppliers to meet. By keeping true to this supplier Code, we aim to source products that support our clients' commitment to social and environmental responsibility.
This can be a real challenge (read about our co-founder's recent trip to China to audit tote bag factories HERE). We've found that social and environmental responsibility standards haven't been established in the promotional product industry to the same extent that they've been recognized in the apparel or footwear industry. When dealing with products that are less than $10, or even less than $1, implementing changes to the supply chain can be daunting.
But the work needs to be done. It's a major brand risk to market your company as "green", "socially conscious", "sustainable" and generally "good" and then put your logo on a garment made in sweatshop conditions or a product that's toxic to people's health.
Beyond providing social and environmental assurances, we also aim to find high quality, stylish and useful products that break the mold of your typical SWAG. We market items that people won't throw away a week after they receive them and encourage our clients to choose products that serve a purpose. Better yet, we supply clients with ideas that support broader behavioral change. Here are a few examples:
AVEDA: Each year Aveda salons support Earth Month by raising funds for grassroot organizations that support biodiversity and address environmental issues around the world. This year, the focus was on clean water and Fairware supplied salons across North America with stainless steel water bottles to sell as fundraisers. In addition to raising money for a great cause, the reusable bottles support a movement away from store-bought bottled water.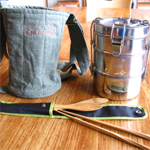 Seventh Genearation: We created zero-waste lunch kits for Seventh Generation's broker sales force. Each kit featured an embroidered cotton carry bag, engraved stainless steel tiffin tin, reusable bamboo cutlery and messaging on the amount of take-out container waste generated annually.
Ben & Jerry's:  The black and white cow of Ben & Jerry's logo is well-recognized and loved. We sourced fully customized tote bags for Ben & Jerry's gift stores that additionally featured a message of "reduce, reuse, recycle".
It's been established that custom branded products are an effective marketing and awareness-raising tool. At Fairware we add value by sourcing products with purpose, ensuring our clients' promotional items align with their social and environmental values.