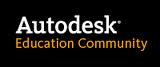 With a little help from Mr. Imagination, Dawn Danby, Sustainable Design Program Manager at Autodesk, and Jeremy Faludi, Sustainable Design Expert and Stanford University Lecturer,  deliver video tutorials on responsible design through Autodesk's Education Series: Design for Product Lifetime Strategies.
"Introduction to Design for Product Lifetime" (embedded below) is just one of many lectures up and running, including "Design for Durability" and "Design for Disassembly and Recycling."
Head on over to Autodesk's Education Community to learn more, and check out the YouTube channel!