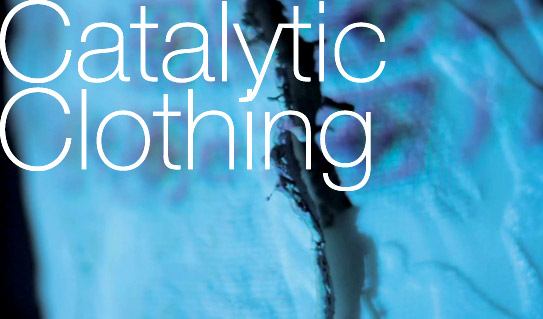 The Catalytic Clothing Story from Helen Storey Foundation on Vimeo.
As you know, we're huge fans of Professor Helen Storey (London College of Fashion) and Professor Tony Ryan (University of Sheffield) for their breakthrough interdisciplinary work and research on such projects as Catalytic Clothing.
So, here's some exciting news if you're close to the UK: from October 27th to November 12th the Manchester Science Festival will be featuring projects Field of Jeans and The Soap Box.
Admission is free and you don't have to book a space!
What is Catalytic Clothing?  
"Catalytic Clothing is a radical project that brings together the worlds of fashion and chemistry with the potential to clean the air we breathe […] Employing existing technology in a new way, it seeks to explore how clothing and textiles can be used as a catalytic surface to purify air. It is the brainchild of artist / designer Helen Storey and chemist Tony Ryan – people from very different worlds whose minds have come together over recent years in highly successful art/science collaborations." (Catalytic Clothing)
Follow Catalytic Clothing on Facebook, here.
Follow Catalytic Clothing on Twitter, here.
Source: The Bulletin, Centre for Sustainable Fashion