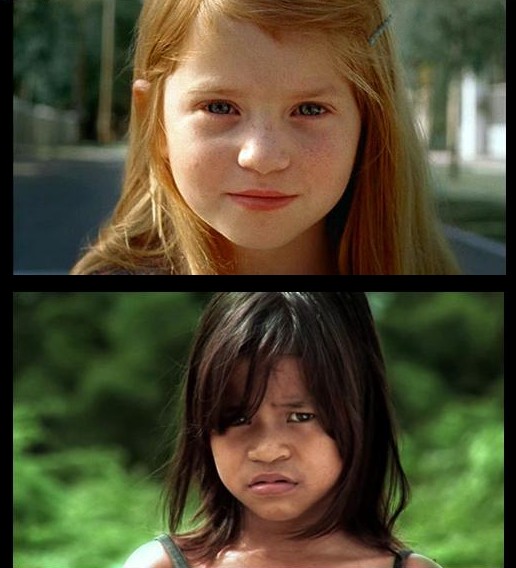 Earlier this month, I had the pleasure of stepping in to teach responsible fashion consumption to an amazing group of grade 6 and 7 students in Vancouver.
Part of the SA workshop asks students to 'talk back' to the industry. Generation Z, as they are called (ages 8-12), is a 2 billion $ industry. It seems that companies targeting this generation believe they have to incorporate environmental responsibility into their platforms―this target market would expect no less.*
What we discussed in class, were ways for students to harness their purchasing power to not only support environmental responsibility, but to also demand systems for social compliance that protect human rights along any/all aspects of a product's supply chain.  
When addressing unrealistic definitions of external beauty in the workshop, we show a video clip from Dove's real beauty campaign. Before and after showing the clip, however, we take note that Dove is a corporation, and that they are, in the end, working only toward their real responsibility, the bottom line (see Lesson 3, here, and Lesson 4, here).  Nonetheless, we watch the video clip with this in mind and focus in on images reflecting the consequence of irresponsible beauty campaigns.
The educator that brought me into the class is very involved in social issues which affect her community. Before I came in, she had already engaged her students in conversations surrounding child labour in the apparel supply chain, with the article "Your Shirt off their Backs," from Free the Children founders, Craig and Marc Kielburger. The article doesn't take the supply chain past the point of purchase, but that is where the SA workshop comes in handy; we follow garments through the entire supply chain past the consumer, down through its bitter end.  
With her background knowledge, she has added to the workshop by introducing us to a video campaign by Greenpeace in reaction to Dove's use of Palm Oil in their products― a great reminder that even when the bottom-line tries to be responsible, profit alone must drive the corporate conscious of a publicly traded company. **
Stay tuned for our elementary and kindergarten workshops, going live in March. The elementary workshop will include both videos, along with notes on how to engage youth in the issues surrounding responsible advertising versus responsible business.  
*Proof of this came recently in the form of 'environmentally friendly' packaging for Walmart's new make-up line, GeoGirl (click here for an interesting read on the controversy surrounding the line).
** For more on Corporate Social Responsibility, check out Lesson 3 and Lesson 4. While you're at it, pop on over to The Corporation website to hear (or read) it from the ringleader himself: Milton Frieman. And be sure to read his infamous article "The Social Responsibility of Business is to Increase its Profits" (September 13, 1970, The New York Times Magazine) if you haven't already.