Connect…
Without a doubt, a key component of our SAGE module is the Key Players Map, by Maughan Pearce…
There are countless key players working toward responsible fashion across global apparel supply chains. This 'sampling' of key players will help you understanding social, political, environmental and economic contexts. Click on a key player to reach out and connect!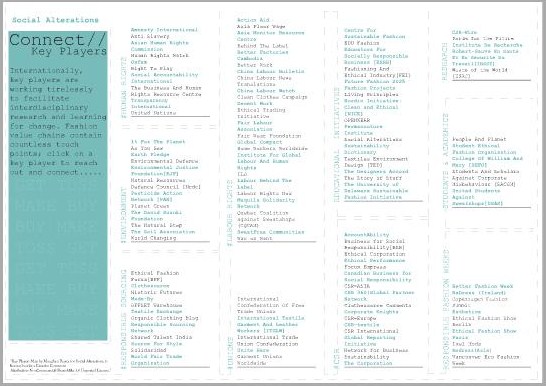 Within the map, 'Key Players' are grouped by topic:
#CSR | #EducationalInitiatives | #Environment #HumanRights | #LabourRights | #Research |  #ResponsibleFashionWeeks | #ResponsibleSourcing | #Students&Academics | #Unions
WAIT!

Key Players Map by Maughan Pearce for Social Alterations, is licensed under a Creative CommonsAttribution-NonCommercial-ShareAlike 3.0 Unported License.