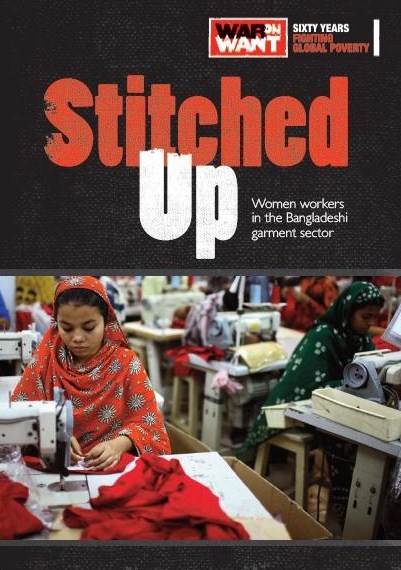 War on Want has published a new report outlining current conditions for garment workers in Bangladesh—Stitched Up: Women workers in the Bangladeshi garment sector.
Of the many issues addressed in this report, the research outlines the true impact of short lead times, explaining how wages earned can depend on whether or not a worker meets production deadlines. It also showcases certain worker rights that have been denied as a result of an absent rule of law.
"The research conducted for this report reveals that women in the garment sector have been systematically denied their rights to maternity leave under Bangladeshi law." (Stitched Up: pg 8 )
The report investigated 41 garment factories (there are an estimated 4,825 garment factories in Bangladesh) and interviewed nearly 1000 workers (there are an estimated 3 million garment workers in Bangladesh) (Stitched Up: pg 2). 86% of the mostly women interviewed (988/1000) were between the ages of 18-31 (Stitched Up: pg 2).
Head on over to War on Want to read the report and to learn more.